Managing patients with lupus nephritis tests the best amongst us – starting from diagnosis, assessing disease severity, deciding treatment, dealing with toxicities, monitoring response, and worrying about when to stop the treatment!
A wide-ranging review article in this month's Kidney International covers these issues and should be required reading for those interested in the topic.
The starting point for the paper is are 3 exciting new positive clinical trials (AURORA, BLISS-LN, and NOBILITY) that show approaches that will hopefully be better than the current standard of care. The three new drugs are voclosporine, belimumab and obinutuzumab.
Volcosporine is a new calcineurin inhibitor, more potent than cyclosporine with less of a hypertensive and hyperlipidemic effect, less diabetogenic than tacrolimus and shown to be non-nephrotoxic in animal models. A CNI, it brings about rapid control of proteinuria by stabilising podocytes. The protection of podocyte mass might help in the long run also.
Belimumab is a humanised monoclonal antibody that blocks B-cell activating factor (BAFF), also known as B-lymphocyte stimulator (BLyS), costimulator for B-cell survival and function. It has been suggested that Belimumab can stabilize kidney function, reduce flares and slow the development of renal fibrosis.
Obinutuzumab is a fully humanized monoclonal antibody created by a unique post-translational glycoengineering process. The antibody binds to an epitope on CD20 that partially overlaps with the epitope recognized by rituximab. It acts by inducing direct cell death and increasing antibody-dependent cell-mediated cytotoxicity.
While Volcosporine and Belimumab have been approved for the treatment of lupus, Obinutuzumab is in phase III clinical trials.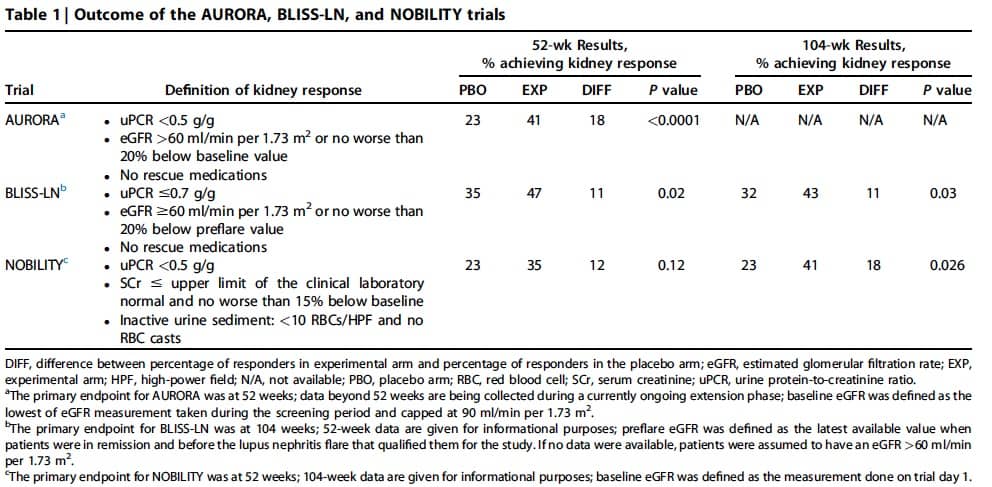 The authors have presented their opinion on how can these two approved agents be utilised in clinical care. They note that both of these have been tested in less severe diseases. They do not suggest replacing the current standard of care for the initial treatment of this disease. They suggest taking an incremental approach in which the response to initial treatment is evaluated after 8 weeks and 6 months. This recommendation is based on data that A >50% decline in proteinuria at 6 months predicts good long-term kidney function, and a >25% decline in proteinuria at 8 weeks predicted a >50% decline in proteinuria by 6 months plus a reduced risk of treatment failure between 6 and 42
months.
Their suggested approach is shown below.
They also make a strong case for minimising the use of steroids for treatment of lupus nephritis, based on the knowledge that the genomic action of steroids (on T- and B-cell activation, proliferation, and survival) max out at about 30 mg/day, and the non-genomic (anti-inflammatory) at about 1 to 1.5 g of methylprednisolone. They suggest not using more than two 0.5 g pulses of methylprednisolone, keeping the oral dose to 0.5 mg/kg/day and coming down rapidly to 5-7.5 mg/day by 2-3 months.
There is an interesting section that discusses the right approach to doing a kidney biopsy. They point out that many patients with relatively small amounts of proteinuria (< 500 mg per day) exhibit disease activity, and suggest that we should be biopsying these people much earlier. They also argue for repeated biopsies to assess treatment response, noting that discordance between histologic remission and clinical activity has been shown in as many as 30% of patients.
Deciding when to stop treatment is a clinical conundrum, especially in patients will continue to have low-grade proteinuria. In many, this may be due to residual renal scarring rather than disease activity. This distinction can be made by a kidney biopsy and treatment stopped if there are no active lesions. This approach was tested in a series of 76 patients and showed excellent results (1 flare in 6.6 patient-years)
The last section discusses the current state of the art around biomarker research and (poorly futuristic) molecular interrogation of the kidney biopsy – it is safe to say that much of it is very exciting but not immediately clinically relevant. They use the section to present their view of what lupus nephritis treatment might look like in the coming years.

Mejia-Vilet JM, Malvar A, Arazi A, Rovin BH. The lupus nephritis management renaissance. Kidney Int. 2022 Feb;101(2):242-255.